Why Should You Become A Information Security Officer?
An Information Security Officer is the one who is responsible for protecting an organization's Information Technology (IT) programs from internal and external threats. Specifically, IT officers are charged with the task of making sure viruses, spyware, bots, or other harmful programs are not used to compromise an organization's computer system. Information security analysts with experience and an advanced degree like Information Security Officer Certification can grab career opportunities as a chief security officer, an information technology manager, or an information systems manager. It is obvious for any organization with a computer system to actively protect the data of its clients and employees. Hence, Certified Digital Transformation Officer certification provides you with an international recognition that helps you to get hired by any sector easily.
Structure of Information Security Officer Certification:
To get acknowledged as a Certified Information Security Officer, you need to go through these following certifications: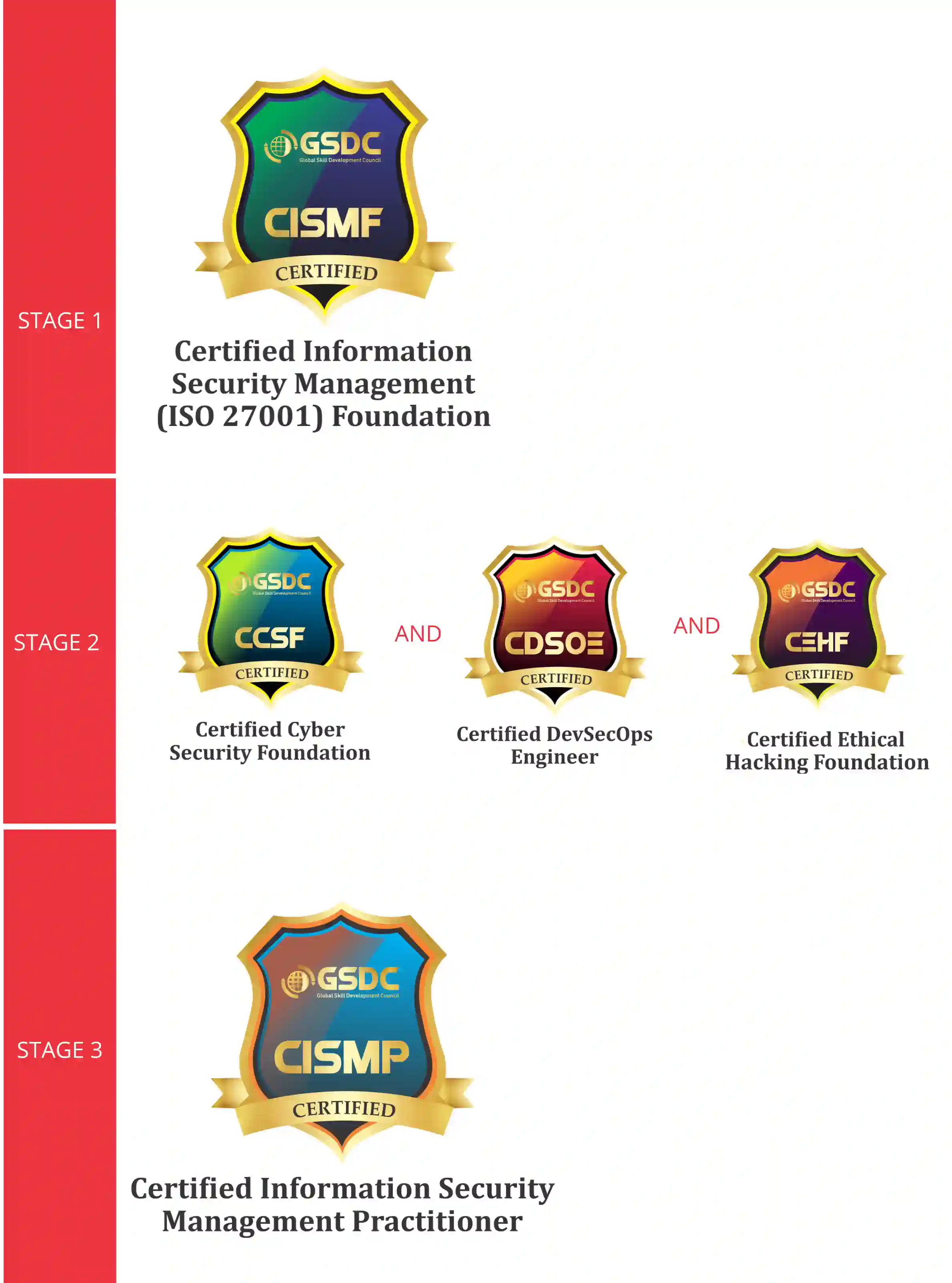 To share a deep understanding of Information Security with candidates, Certified Information Security Officer Certification starts with Information Security Management Foundation – ISO 27001 Foundation certification.
For the 2nd step, you'll have to complete DevSecOps Certification, Cyber Security Foundation Certification and Ethical Hacking Foundation Certification.
DevSecOps Certification explains how DevOps security practices differ from other security approaches and provide the education needed to understand and apply data and security sciences. The attendees of this course understand the purpose, benefits, concepts, and vocabulary of DevSecOps. They become aware of its roles and how does it fit with a DevOps culture and organization. At the ending point, participants will be able to use "security as code" with the intention of making security and compliance adaptable as a service.
Cybersecurity Foundation Certification is designed with the vast knowledge of the global perspective of challenges that one faces while mapping a secure system while covering the major cyber roles needed to provide a solid system. With all the hacking and data manipulation, cybersecurity has become a need of the hour now. By going through this certification, you will learn about threat trends that are most alarming across the internet currently as well as their impact on cybersecurity.
Certified Ethical Hacker (CEH) Foundation certification is aimed towards demonstrating knowledge of assessing the security of computer systems by looking for weaknesses and vulnerabilities in target systems while using the same knowledge and tools as a malicious hacker yet in a lawful and legitimate manner to assess the security posture of a target system.
In the last stage, you'll have to complete the Information Security Management practitioner Certification, and then you are good to go!
The module Information Security Management Practitioner tests an understanding of the organizational, physical, and technical aspects of information security.
How Can You Become A Certified Information Security Officer?
After the completion of these 5 certifications, you'll be announced as a certified Information Seurity officer and will be rewarded with certificate and badge as well. Not only that, but you'll also be accepted and known at the International level to become a GSDC accredited professional.